Gift Idea #672 - The Land of Nod Gift Card
Want to make sure they always get exactly what they wanted? Grab a gift card. Ours are available in different styles for all kinds of occasions. Plus, you can also pick up gift cards to Crate and Barrel and CB2 right here. No matter what store you choose, we'll present it in an attractive carrier with your personalized message. But it gets better. All cards sent by standard delivery ship free (see below for details). So now you know what to get when you don't know what to get.
eGift Card
In a hurry? Last-minute gifts?
Send an online gift card directly to their inbox.
Personalize your gift message.
Emailed within hours.
Online gift cards, or eGift cards, may be redeemed at any of our brands online, in stores or by phone.
This link will direct you to our partner site operated by CashStar.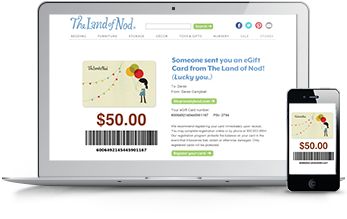 Standard delivery is free of charge and should arrive within 3-5 business days.
If you're in a hurry, 2-Day Express orders placed by 12:30 p.m. CST will be delivered via FedEx in two business days for $6.00. Next Day Air is also available to most destinations. Orders placed by 12:30 p.m. CST will be delivered via FedEx by the end of the following business day for $12.00.
Gift cards sent via standard delivery may be shipped only to U.S. addresses via the U.S. Postal Service. There is no shipping charge for this type of delivery. Gift cards are shipped separately from other merchandise.
Please note: We do not personalize The Land of Nod Gift Cards with a recipient name. Each Gift Card is issued in the denomination indicated by the purchaser. You can enter a gift message free of charge during checkout.
Important Customer Notice
We can only guarantee the authenticity of The Land of Nod Gift Cards and Shop Cards if they are acquired through landonfod.com, crateandbarrel.com, cb2.com, The Land of Nod, Crate and Barrel, CB2, stores or by calling 800.933.9904. Gift Cards and Shop Cards purchased through online auction and classified ad sites may be counterfeit or have a zero dollar balance and can be canceled at any time if determined to be fraudulent.
Terms and Conditions
The Land of Nod Gift Cards may be redeemed online at landofnod.com, crateandbarrel.com or cb2.com. They may also be used at The Land of Nod stores, Crate and Barrel (U.S. only) and CB2 stores, or by phone at 800.933.9904. Purchases will be deducted from each card's balance until the value reaches zero dollars. Cards will be considered void if bartered or sold. Cardholders may check their balances at landofnod.com or call 877.477.4567. For Customer Service, call 800.933.9904.
For your security, only registered cards will be replaced if they are lost, stolen, or destroyed. To replace a registered card, call 800.933.9904. We will freeze the remaining balance at that time and mail a replacement.