Embroidered Sheet Set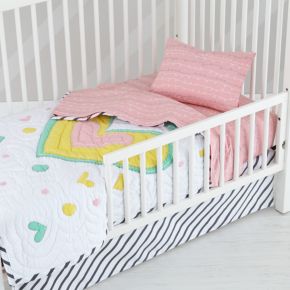 We invited some patterns to our Pattern Party Bedding set and this is what happened. Hearts became the center of attention and mingled with some diamonds and circles on the crib quilt. Squiggles grouped together on the pink toddler sheet set, while grey stripes were happy to be by themselves on the crib skirt. It coordinates with our Pattern Party ...
Mr. Sandman, bring us a dream. But if you get stuck in traffic, there are plenty more transportation options adorning this beautifully designed bedding from artist Michael Mabry. The quilt features an embroidered train, bus, helicopter, motorcycle, boat and more. And if you get lost, the Sheet Sets and Duvet are inspired by a traditional city map. Round out the ...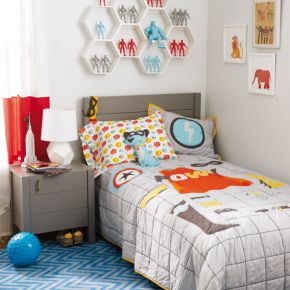 Look! Up on the bed. It's a quilt. It's a sheet set. No, it's our Super Bedding. The 100% cotton quilt features an entire outfit of appliqued and embroidered superhero essentials, while the sheets are punctuated with classic comic book onomatopoeias. Designed by artist Andrew Bannecker. Details, details - Nod exclusive - An Andrew Bannecker design - Twin Sheet Set ...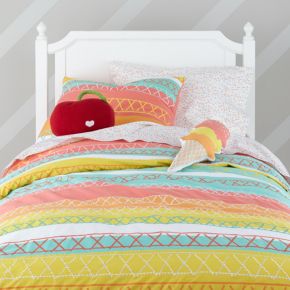 How do you turn your bedding into a delectable treat? Start with some smooth, 100% cotton Sprinkle Sheets. Then layer on the colorful, multi-patterned duvet. Finally, put a Cherry and Ice Cream Pillow on top, and your bed will look good enough to eat. NOTE: Please don't eat your bed. Designed exclusively for us by Joy Cho of Oh Joy! ...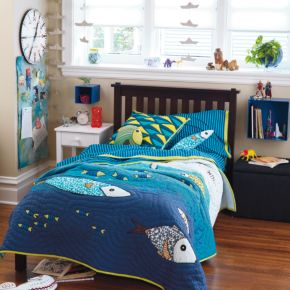 Dive into bed and explore the world of deep sleep with our Oceanic Bedding Set. The embroidered Quilt features schools of colorfully appliquéd fish. It's 100% comfy cotton, making it easy to drift off to sleep. And the coordinating Fish Throw Pillow is available in either green or blue.