Build The Ultimate Kids Playroom
Creating the perfect kids playroom? Our handy playroom guide will help you pick furniture, décor and storage to fit any space, whether it's a complete playroom or just the corner of your kitchen.
The play table.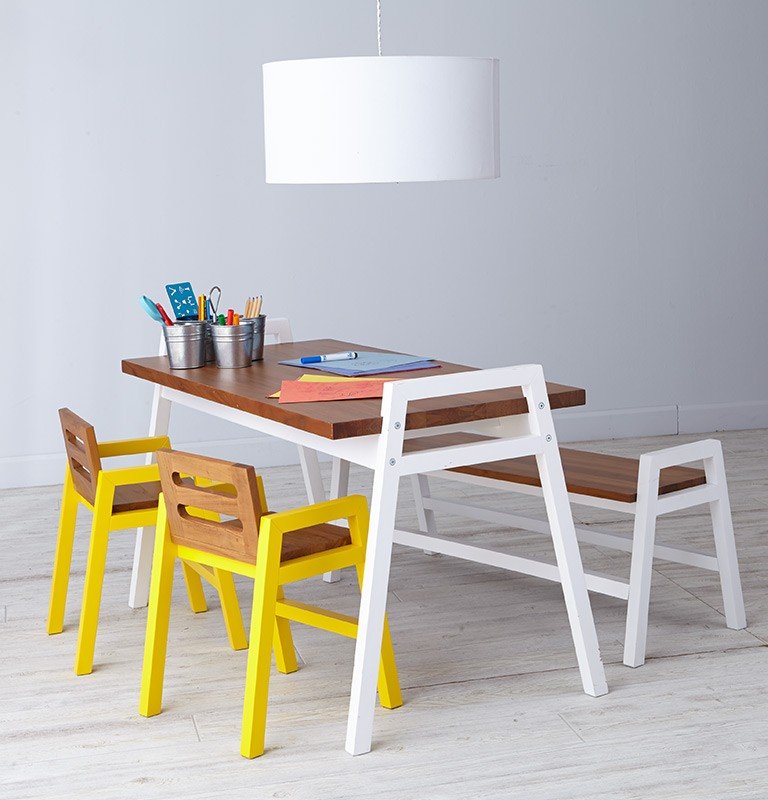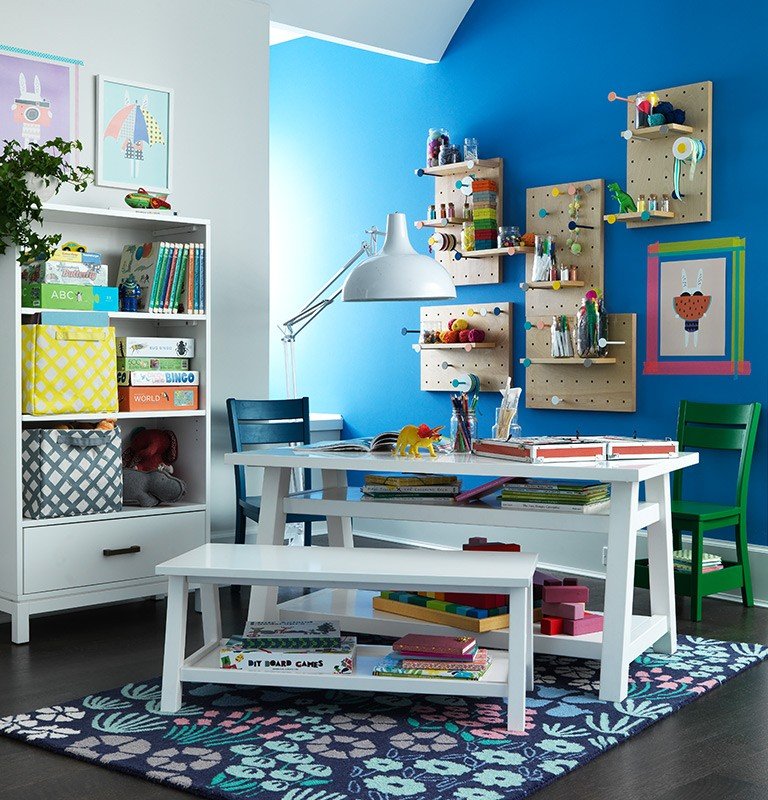 You'll need a table that's big enough for everyone, but also fits your space. And since it just may outlive the playroom, choose one that can match a variety of décor.
Size
Small Space – Consider a table with built in storage. And look at square or rectangular tables that can easily be tucked in corners and against walls. Or, a table that can do double duty such as a coffee table/play table.
Larger Space – Look for a table that can seat 4-6 kids. This is great for play dates, overflow seating at holidays (kids table), and for parents to sit at the table and join in on the fun.
Height
Low Tables – These are around coffee table height, and can actually act as a coffee table as well as a play table. This is great for toddlers to stand at and play with blocks and trains.
Medium Height – Perfectly sized for 3-8 year olds. Even adults can sit in the child-sized chairs at these tables.
Adjustable Height – It's possible to get the best of both worlds with an adjustable height play table. Legs change out to go from low, to medium, to high desk height. This will last you from toddler age all the way through high school and beyond. It can even become a kitchen table down the road, since the tallest leg height is the height of a standard table and accommodates a standard chair.
The play chairs.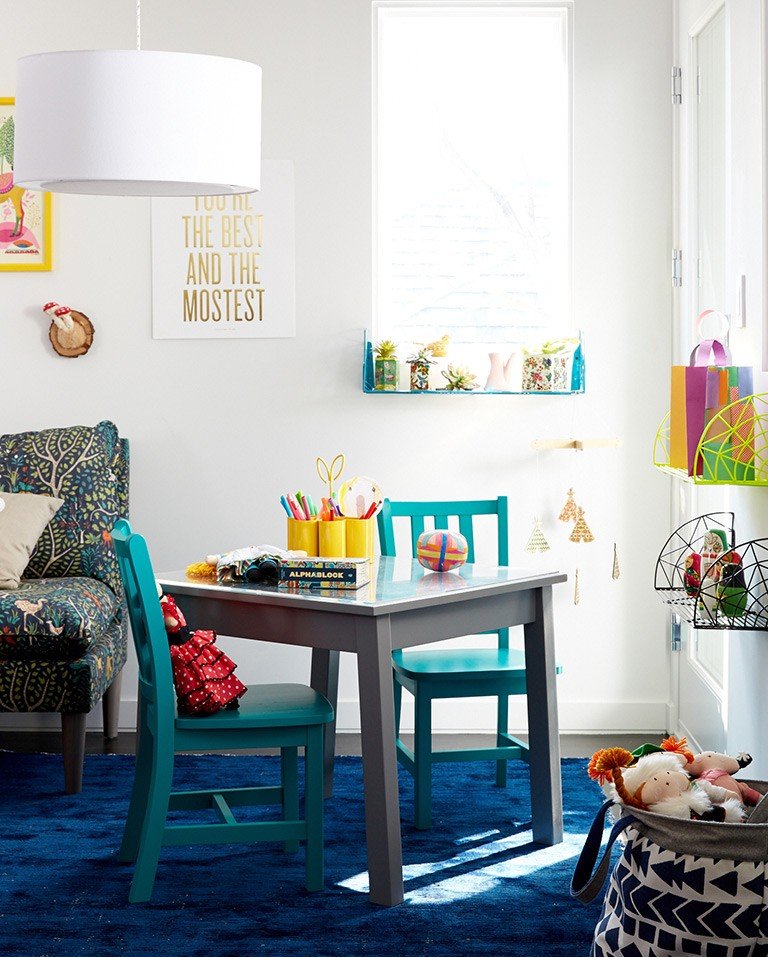 If you choose a medium height table, you'll need some play chairs.
For younger kids, splayed leg styles are a great option, as they are much harder to tip over. (You know you're a parent when you tell your kids to, "STOP LEANING BACK IN YOUR CHAIR. Please.")
Kids chairs are a great opportunity to have some fun. Play with bright pops of color. Choose a variety of colors; or maybe let each child choose their own.
If you're planning to sit at the table with your kiddos, consider either bench seating or play chairs with no arms. Trust us, you'll be more comfortable.
If you opt for a low height table, add a few floor cushions or poufs to pull up to the table.
The rugs.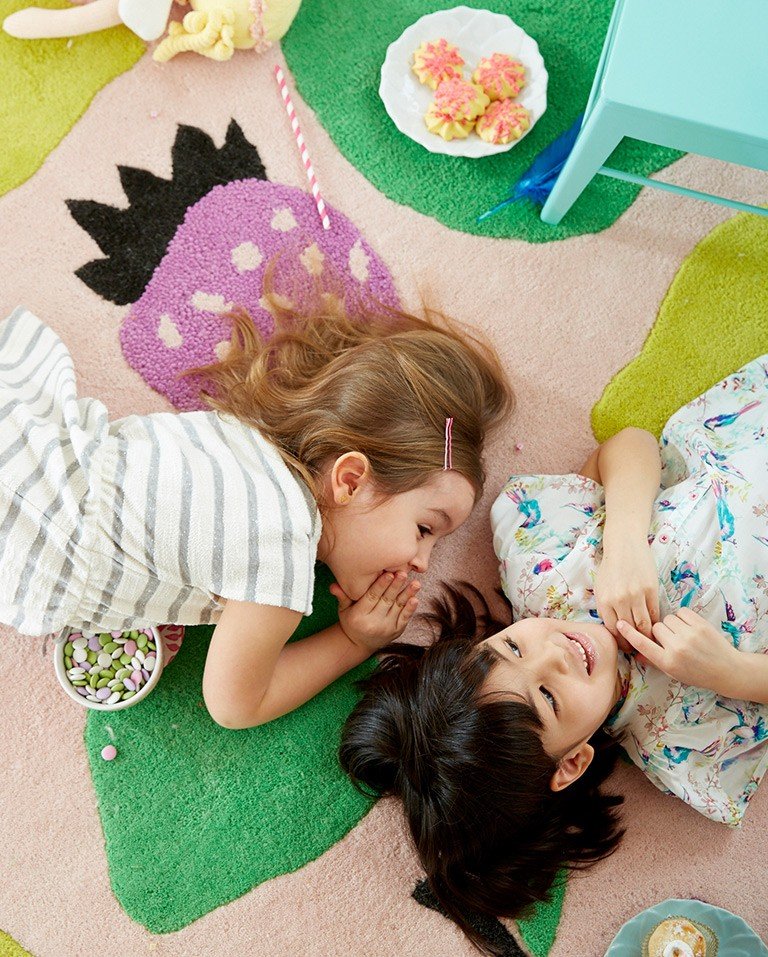 Many playrooms are in shared spaces, so a large rug can help create a zoned space, clearly defining the "playroom".
A thick, wool rug is a great option. It can take a beating and cleans up beautifully. Also, they're plush and will give a place for your child to get down on the floor and play.
Consider an "interactive" rug design, and the rug itself can be part of your child's imaginary play.
The book nook.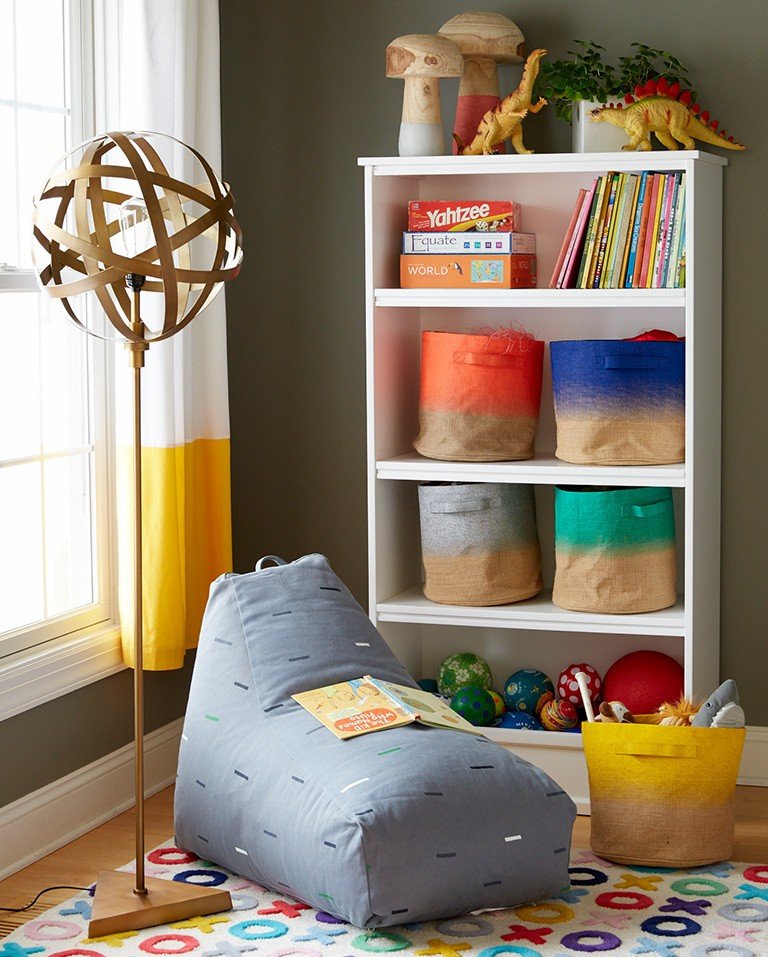 To encourage reading, consider dedicating a corner of your kid's room, your living room, or their playroom into a book nook.
Choose a bookcase that is low enough for kids to have access to their books and keeps books in plain view.
Add a comfy seat, bean bag or pouf to the space, so kids can get cozy with a good book.
The storage.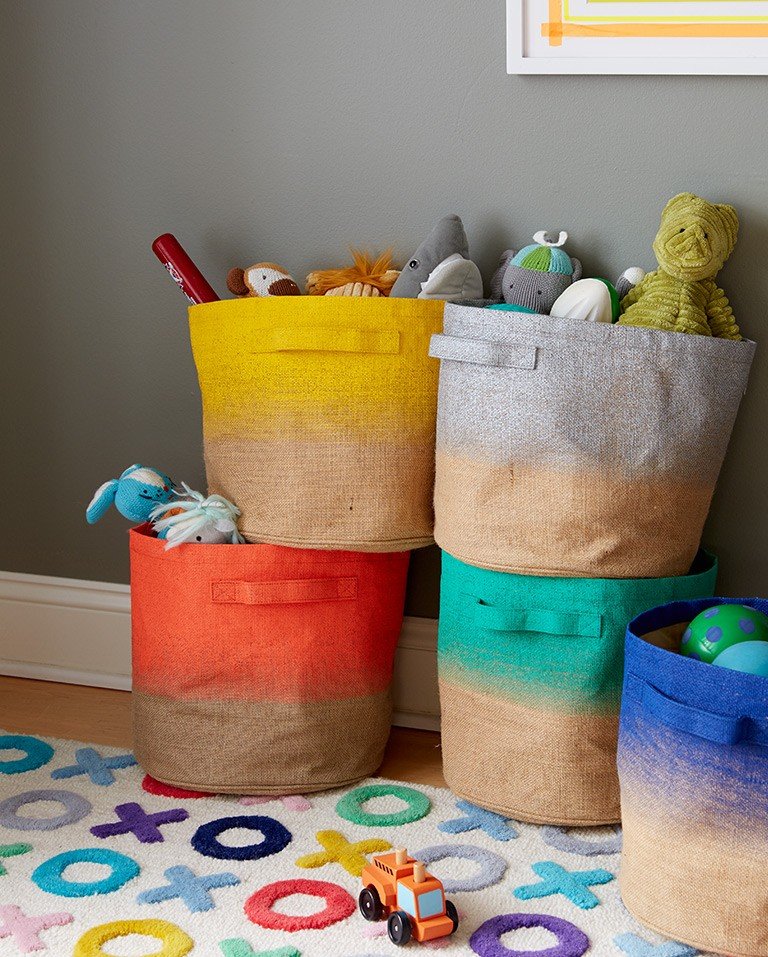 The key to a perfectly clean playroom is to never let the kids into the playroom. But, the key to a well-organized playroom, is bins and baskets.
Consider color-coding by type of toy or child. If toys all have a "home," kids will be better able to help with cleanup (green bin for cars, red bin for dolls, orange bin for play food, etc).
Get a variety of sizes and shapes. Floor bins for stuffed animals. Small stacking bins or drawers for art supplies.
The floor plan.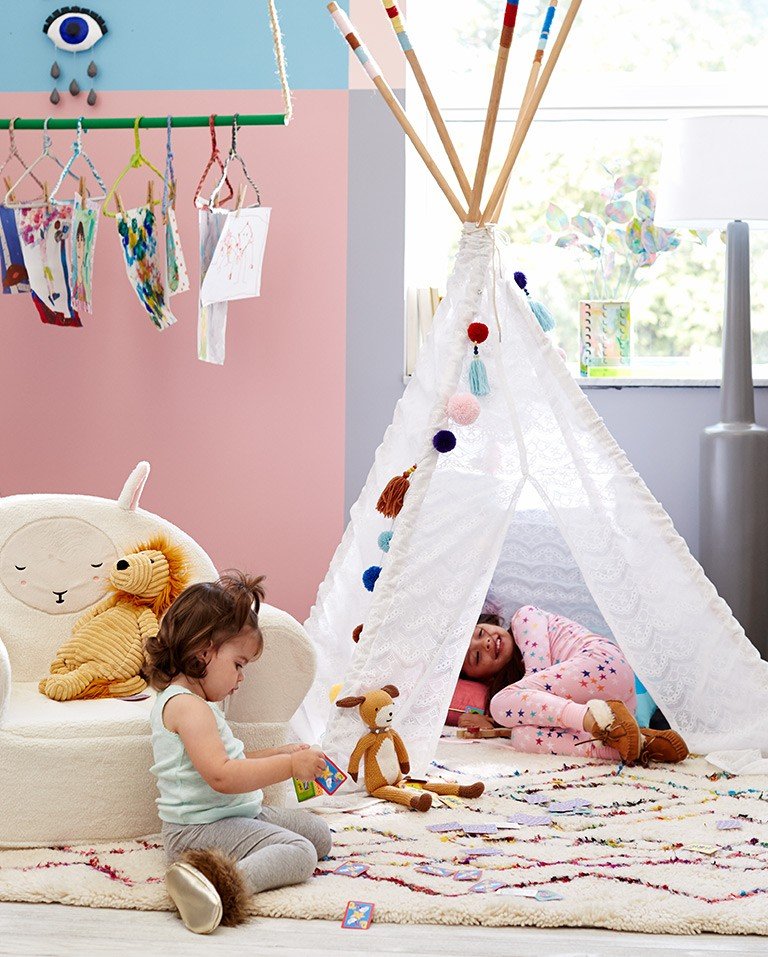 Creating zones in your playroom is a great way to not only keep things organized, but to maintain some harmony between siblings. Johnny can be painting in the art area, while Sophie makes you dinner at the play kitchen. You don't need a huge space to do this, just some advanced planning.
Draw out a floor plan of your room, just a rough sketch will do.
Use corners for book nooks.
Keep open areas for a table and floor toys (blocks, trains, etc).
Make an art area near a wall where kids can display their masterpieces.
Not up for floor planning? Don't worry. We'd be happy to help. One of our interior designers can draw up a floor plan and suggest products for your playroom. Check out our Design Services page for details.
Overall, the playroom should be a place that inspires and engages your kids, but doesn't make you cringe upon entry. That means plenty of organization, and not having to leave your design aesthetic at the door. Having kids doesn't have to mean turning your family room into a preschool classroom. Use colors and design elements you love. And take it as an opportunity to embrace your playful side, and take some risks. It is a playroom after all.