Decorate Your Kid's Bedroom for the Holidays
Don't limit the holiday spirit to just the living room of your home! Your kids are guaranteed to get excited when you can spread the love to unexpected places like the kids' bedroom too. Here are a few interesting ideas for how to get spirited this holiday season.
Start with the bedroom door.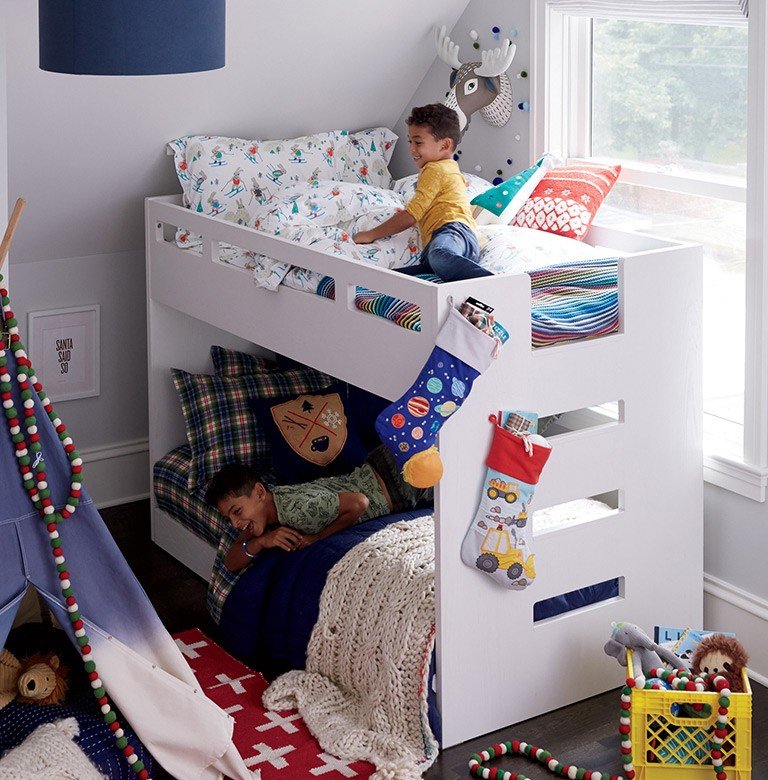 It's the first thing a kid sees before heading into their bedroom, so why not add a little glitz?
Tape wrapping paper to the front of your kids' bedroom door to look like an oversized present. Use your child's favorite wrapping paper (or a wrapping paper you've been dying to get rid of) for the job.
Not so great with the wrapping paper? Take the pre-adhesive bows and stick them to the surface of the door. For an extra touch of style, vary the sizes of the bows and use a unique arrangement or pattern.
If you're really looking to go minimal, start with just a sign welcoming your child to their very own winter wonderland.
Start the countdown.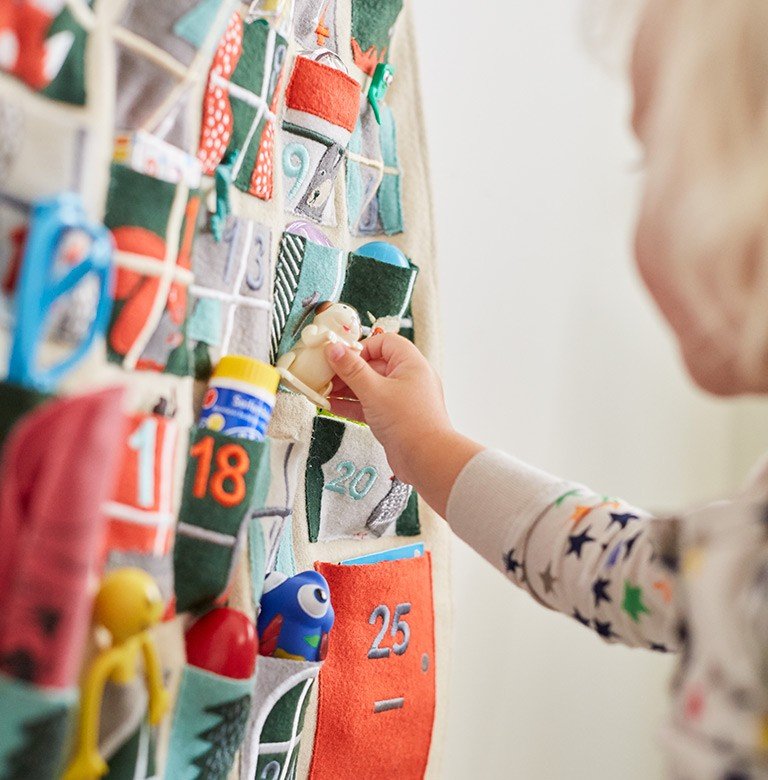 One of the best parts of decorating for Christmas is the wait. Twenty-four days full of anticipation seem like an eternity for your child. Help them countdown with an Advent Calendar.
Most stores carry their own disposable Advent calendars that you can simply open and toss when the season is over, but there are also a lot of great re-useable calendars that can end up sticking around as a Christmas tradition for years to come.
If you're feeling crafty, try your own version of an Advent calendar. You can buy and number small cloth bags, fill them with small toys or goodies, and hang them in your child's room. Or wrap, number, and fill a bunch of small boxes and let your little one open one each day. The sky is the limit here, it all helps create anticipation for Santa's imminent arrival.
Go for a garland!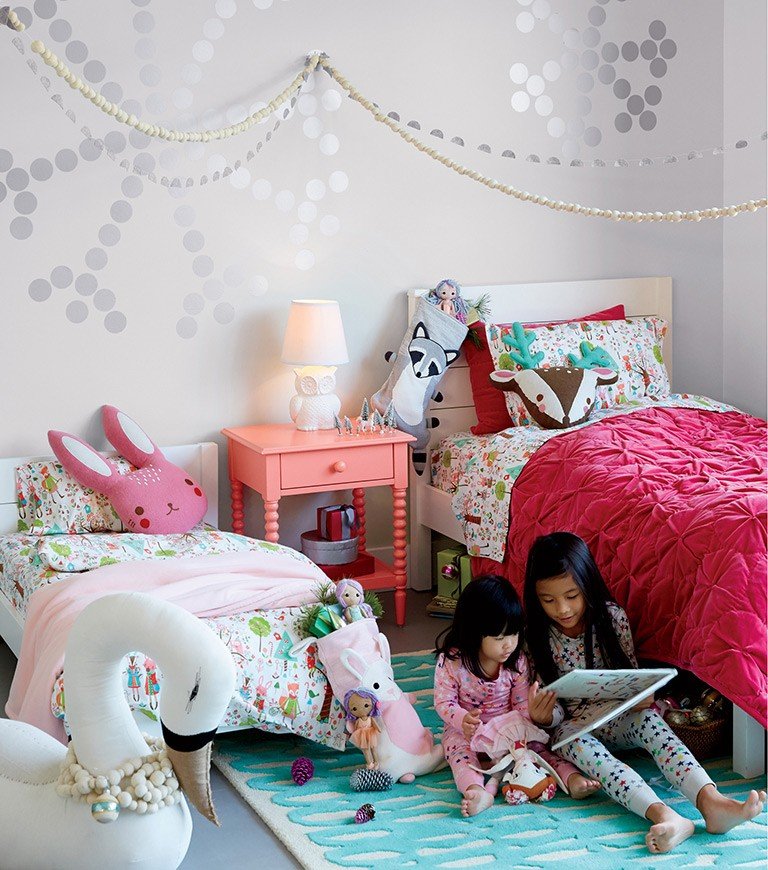 Holiday garlands add a festive touch wherever they're hung and are one of our favorite holiday decorations. They also can be reused for other special occasions throughout the year.
Holiday garlands are easy to buy or make. Sew together pom-poms or beautiful, oversized tassels or even disposable party decorations like paper tissue fans or honeycomb balls.
For more holiday decorating ideas for garlands, hang strands of evergreen and adorn them with Christmas tree decorations or soft, Christmas lights. It can replace your little one's nightlight for the season.
Get creative about where you hang it! Hang soft, shatter-proof garlands over your child's bed (never over a crib), on their dresser, over their window, at the foot of their bed, or even on one of their favorite toys or oversized stuffed animals. The more unexpected, the better.
A mini tree? Yes, please.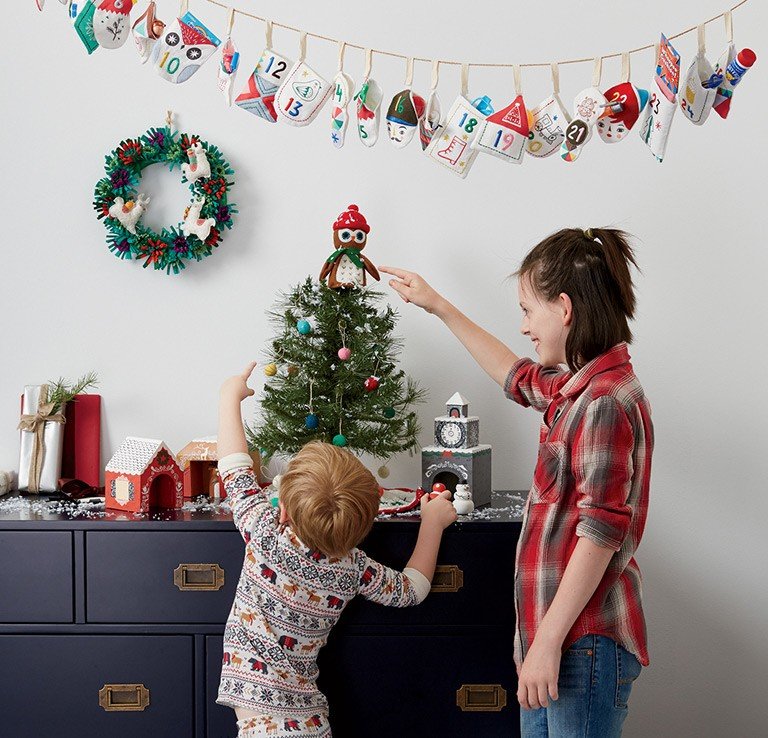 Yup, you've got the big one in the living room but how about creating a smaller version for the little ones?
Our Wee Christmas Tree comes with everything your little one needs to have a little tree for themselves.
Let the kids call the shots on this tree, everything from design to the actual decorating. They'll love giving their input for Christmas tree decorations.
The lesson here: Don't contain holidays to the living room. It's way more fun if other rooms in your house are in on the Christmas season, too. Especially when it comes to decorating a kid's bedroom. Who knows, it just might make getting
them in bed a little bit easier. Take a look at our entire collection of holiday decor and get started.