Picking the Perfect Area Rug
Even though hardwood floors are all the rage, when you're decorating a kid's room, nursery, or playroom it's nice to have something soft for your little ones to run, roll, and play on. A stylish and cost effective solution—the right area rug. It helps tie the room together while giving the kids an ideal spot for everything from practicing gymnastics or curling up for story time (hopefully the latter). And our few simple tips will make it a piece of cake to choose the right area rug for your space.
Figure out your floor plan.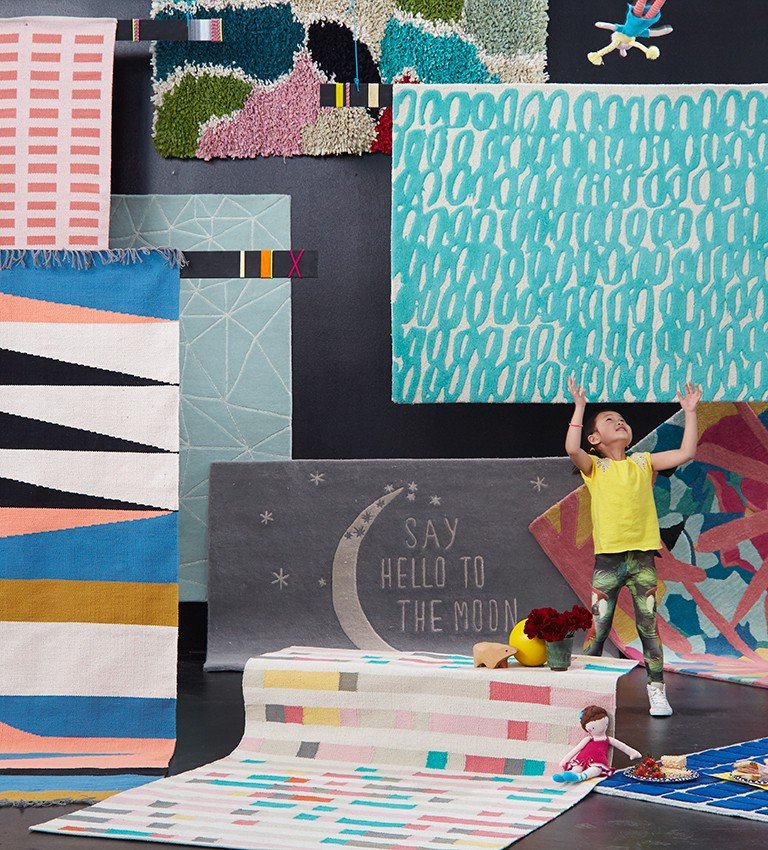 Measure the space to double check that the rug won't be too large or too small for the room. Depending on the area, keep these suggestions in mind to save yourself a hassle later.
Bedroom: Make sure the rug is placed centrally. At least two legs of the bed should be resting on it.
Nursery: If you have a rocking chair or glider, check to see that it can be placed completely on the carpet to avoid having it sit unevenly. Also, make sure the rug offers enough open space for little ones to play.
Playroom: Think about the size of your play table and chairs. Kids should be able to easily pull out their chairs, while still keeping them on the carpet. It will help protect your hardwood floor from scratches (not to mention flying paint or glue).
Chose the right type of rug.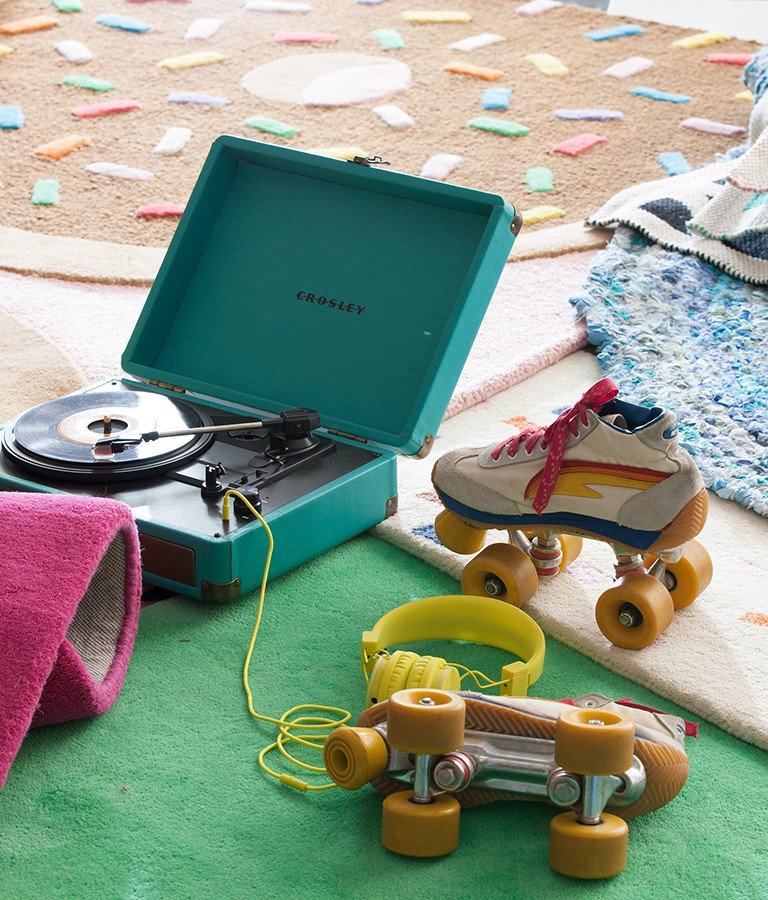 Choosing the right construction means thinking about everything from where it will go to how it will be cleaned to how well it holds up to the wear and tear of little ones and little pets.
Cotton rugs are thinner with no backing, making them reversible and very versatile. Cotton rugs are also easy to clean and affordable.
Wool-cut pile rugs may shed a little at first, but they're durable and provide a soft place for little feet to land first thing in the morning.
Loop Rugs add some texture to a space without any of the shedding. They're a harder choice for people with pets, since claws and paws can get stuck and pull at the rug.
Shag and woven rugs add a lot of texture and playfulness to a room, and they're perfect to play on. But again, these types of rugs aren't extremely pet-friendly.
Pick your pattern (or don't).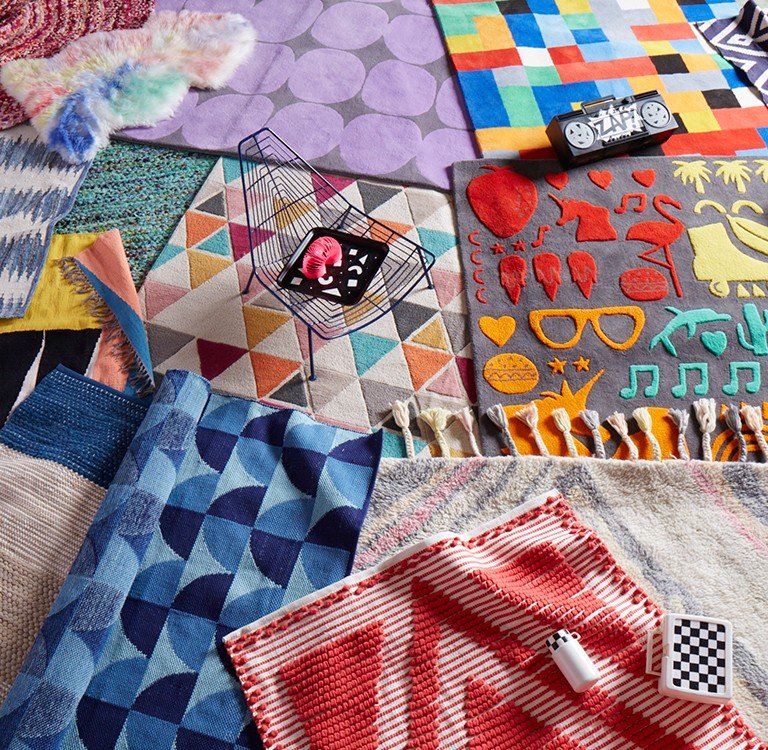 Think about what else is happening in the room in terms of colors and patterns. What is your color scheme? What style is the nursery furniture? Taking the whole room into consideration will help you choose the right type of kids' area rug.
A solid color rug is great if you have a lot of patterns already. It gives the eye a rest and is so versatile it'll grow with your child.
Make a statement using a rug with a playful pattern in a room with mostly neutral components. When or if you want to change it up, it's as simple as picking out a new rug.
Large patterns are easy to work with, and a large pattern looks great mixed with solids or other small patterns.
Keep safety in mind.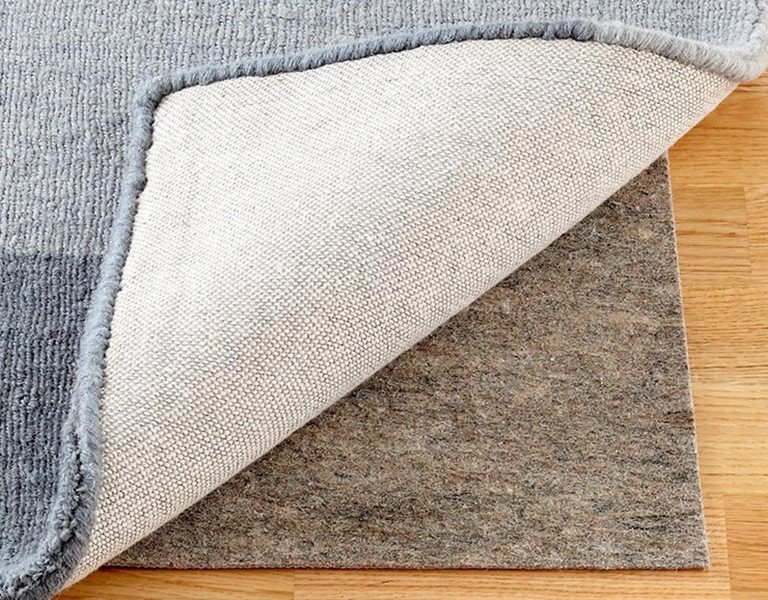 Avoid trips, slips, or falls by making sure that the kids' area rug is lying flat and given an appropriate amount of padding on the floor. Choose a rug pad that works for you:
An eco-friendly rug pad prevents excess wear and color transfer from the carpet to the floor.
An all-surface rug pad works on carpet and hardwood, and it can be cut to size. It also prevents staining or marking of the floor underneath.
Don't get overwhelmed by the huge selection of area rugs you'll see for a boy's room or a girl's room. We're here to give you a second opinion on style, color or patterns that are the best for a nursery, playroom or kids bedroom. Our Design Service team will help you find the perfect addition for your kids' room or nursery. Clicking through our Room Gallery is also sure to inspire some creative ideas too.