Prices and availability are subject to change from the time and date that you print this page.
10/17/2017 6:36:18 PM
For Customer Service, please call 800.967.6696
Artists and Designers
Ellen Van Dusen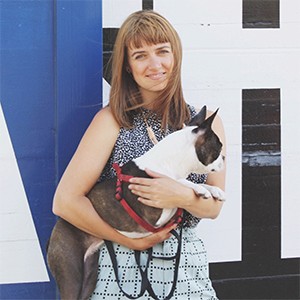 Ellen Van Dusen
In 2010, designer Ellen Van Dusen launched Dusen Dusen, a womenswear line known for its original bold prints on versatile, wearable silhouettes. Each season, the Dusen Dusen collection is developed and inspired by fine art, commercial and naive design, and the brain's reaction to movement, color, and contrast. In 2015, the brand expanded with the launch of Dusen Dusen Home, a home goods line that includes bedding, towels, pillows, and blankets. Ellen Van Dusen was born and raised in Washington, DC and currently resides in Brooklyn, NY with her dog, Snips.
Read what people are saying
Our reviews are verified for authenticity. Learn More.
Return/Exchange Policy
Everything you need to know
We will accept returns and exchanges of non-furniture items if items are returned within 90 days of customer receipt with a valid proof of purchase. We also offer free returns on all furniture. To arrange a return or exchange of an item delivered by freight, please call us at 800.933.9904 and ask for a Furniture Team Specialist.
Back to Top
;