Life's better with friends. So why not welcome a few more into your home with our new Paul Frank Collection? Join Julius the Monkey and his unforgettable pals as they explore land and sea across an exclusive lineup of bedding, décor and more, all designed by Paul Frank himself.
I wanted to design pieces that
kids would have fun with but
also, ones that would appeal
to adult fans as well.
-Paul Frank
The Paul Frank x Land
of Nod collaboration
is based on the idea of
friendship.
-Paul Frank
Meet the Whole Gang!
Julius is like the center of a flower, and his friends are the petals. He is the voice of reason, the rock that all of his friends can lean on. He is everyone's friend. Besides being an all around good guy, he can be anything! Firefighter, doctor, lounge singer, hot dog vendor, burger flipper, pancake maker, lawyer, astronaut, whatever the job calls for, he is your man… errr I mean monkey!
Julius
Meet our pal Clancy, the world's smallest giraffe. He is not sad, just shy. Julius is his tried-and-true friend who is always at his side protecting him. His big brother Cornelius is a normal sized teenage giraffe who would rather be surfing with his bros than hanging out with his little bro. Good thing Clancy has Julius to guide him through life's ups and downs! If Julius is the kite flying free in the wind, Clancy is the string keeping him from flying away.
Clancy
Worry Bear is a collector of items. One man's trash is Worry Bear's treasure. He's always prepared for any situation with his picnic basket full of his collection. Worry Bear is also highly anxious, hence the name. This is why he collects so many things – because what if you just might be in the situation where you need a snowshoe and a melon baller? I mean, what if?
Worry Bear
Mika Cat lives in a cozy little apartment above a sushi restaurant with her best friend William the Mouse. Together they harmonize and share a love of music. When she's not enjoying long cozy naps on the fresh laundry pile, Mika Cat loves to dip her paw in the fish bowl. She dines on only the freshest sushi rolls… she ain't no
alley cat!
Mika Cat
Aaargh! You may recognize Skurvy from his side work on poison bottles, on the back of biker's jackets and as a bad tattoo! He lives on a flag and sometimes gives Julius and his friends good advice like, "You better take your vitamins!" or something like that.
Skurvy
Aku the Alligator lives on a golf course in Florida. Aku and Toothbrush the Bird have a mutually beneficial relationship. Toothbrush's meal is Aku's leftovers. She keeps his teeth nice and clean, ready for his next meal. Aku is the strong, silent type and Toothbrush is the chatterbox.
Aku
About Paul Frank
Paul Frank is a globally recognized, iconic fashion and lifestyle brand, which features artistic and entertaining designs for the young and young at heart. Acquired in 2010 by Saban Brands, the Paul Frank brand was born in 1995 out of a garage in a Southern California beach town. With its bright color palette, unique sensibilities and witty take on everyday objects, Paul Frank has become an iconic brand that reminds us all to "never grow up!"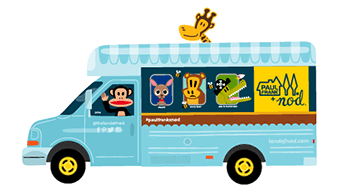 Shop the Collection >
TM & © 2017 Paul Frank Industries LLC. Paul Frank and all related logos, characters, names, and distinctive likenesses thereof are the exclusive property of Paul Frank Industries
LLC. All Rights Reserved. Used Under Authorization.